Our Story
The YNCU Soo Pee Wee Arena began as the dream of several community members who saw the need for another indoor ice arena in Sault Ste. Marie. These visionaries secured community support, funding and volunteer material and labour to construct the facility in 1965 which continues to play an important role in our community today.
Our facility features a regulation 85′ x185′ foot rink, with a seating capacity of 800, and standing room for 200. The Arena also features ample parking, an on site pro shop, skate sharpening service, engraving service, concessions, and a full service bar and restaurant overlooking the rink.
The Arena is open from the first week of September through the last week of April, and is open daily from 7:00am to 12:00am, providing 17 hours of bookable ice time every day. To book ice time, click on Ice Rentals.
The YNCU Soo Pee Wee Arena is a Registered Canadian Charity facility which has been providing wholesome, community oriented sports and recreation for over 52 years. It is home to the Soo Pee Wee Hockey League which has grown over the years from 35 boys to over 1000 boys and girls. Additional activities include mens and womens recreational hockey, figure skating, power skating, adult and youth hockey tournaments and the Campbell Amusements spring Midway.
Arena operations are directed by the Arena Manager who reports to the Board of Directors. The Board of Directors are made up of volunteers who are appointed by previous Board members. Board members, along with staff in some cases, make up several standing committees such as Health and Safety, Finance and Lease and Building and Fundraising committees. The YNCU Soo Pee Wee Arena is self sufficient and receives no government funding. It remains successful because of the utilization of a streamlined operation and the hard work and dedication of its Board of Directors, its staff and this community.
Soo Pee Wee's Start
The 1960s was an era of great change in our ways of thinking and behaving, and one of the fastest growing organizations in our city was the Soo Pee Wee Hockey League. We started out by renting ice time at the Memorial Gardens to teach basic hockey and skating skills. With the scarcity of time slots and the rapid increase in applicants, the organization was forced to move to the Central Park rink to handle the growing number of childen. The problems of unreliable weather and time limitations to scheduling and needed expansion were threatening collapse of the organization. A solution was desperately needed.
A handful of individuals, with a vision about an arena for young people, held regular meetings in King Edward School, and later King George School, in order to plan how to achieve this objective. Others promised material, all types of heavy and light equipment, professional advice and skills and just plain support in any way that was required.
Bank loans were signed by our supporters and land was purchased from Lorne Palmer of Soo Dairies. With the prospect of a real arena in sight, a directorate of ten was selected to manage the corporation.
Volunteer labour formed a major part of the construction force and was entirely responsible for the operation of the arena during its initial year of operation. The first hired employee was engaged in October 1968 and in November 1972, the first full time manager was hired.
Today we have eight hired employees, though some are only part time workers. A considerable amount of volunteer work is still performed. Board members and organizers of special events are all volunteers in order that our rink will continue to be a viable non-profit organization.
The arena canteen was opened in 1967 and was managed and operated until 1973 by a group of women associated with the arena. The names of those women, along with the men involved in the building of the arena, were added to the rink's Honour Roll at our 25th Anniversary on June 20, 1992.
Memorial Wall
Benefactors

Platinum – Marty Turco, The Mert Wright Family, Dr. Lou Lukenda Charitable Foundation, Soo Hockey Club, Joe Maione, CTV
Gold – McMillan Family, Dr. L. B. Lukenda Family, SPWHL, McMillan Carpet One, Lee & Lorne Jarrett, Ron Kelland Family
Silver – D.A. Campbell Amusements Ltd., Kelland Family, Kids 'n' Kops, Superior Dodge, Tom & Laura Szczepaniak
Bronze – Don Hall Family, Richard Metcalfe Family,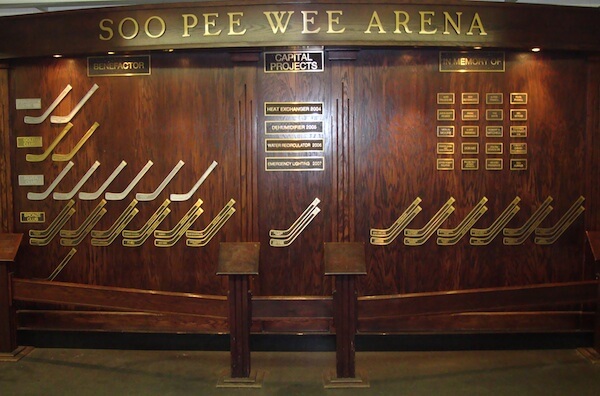 Arrow Home Hardware – Reid Family, Lee & Lorne Jarrett, VanMark Builders – Vanhoek Family, Subway – Jones Family, Elgie Builders – Elgie Family, Ken Closs Family, Greg Eric & Matthew Zahn, N. Podolski & Family, Arthur Funeral Home, Emerson Bentley & Family, Bob Gauthier & Family, The Glenwright Family, Austin Kirkwood and Friends, Prescription Centre, RBC Royal Bank, Helferty Family – Jerry & Anne-Marie, Joe & Peter Maione, Quintinho Carpentry, Ron Francis Golf Classic, Geno Hyrsky Family, Soo Video – Diberardino Family, Pino`s Get Fresh, Savoys Jewellers – Rossett Family, Gough Masonry Ltd., Mr. Dick Brownlee and Family, Ruck Family, Eric & Joyce Sandvik, Joe Maione
In Memoriam
Aldo Paluzzi Sr., Ron Pettenuzzo, Alfred Pinnell, Pearl Pinnell, Jason Scott Pearce, Frank Iannarelli, Tom White, Mel Vetro, Merlin Moore, L. Gary Barbeau, Robert D. Mitchell, Constable Don Doucet 219, Roberta (Bobs) & Hugh McMillan, Don Mei, Zoltan Kovacs Sr. , Carmen Provenzano, Jeffrey Robert Falkins, William 'Bill' Jones, Ian & Biz Presgrave, Don Kurylo, Gerry Lortie, Marc Caputo, Howie Hicks, Dave Nocioli, Lorne Jarrett Sr., T.J. Aceti, Taten Hammerberg, Emily Brownlee, Jason Brownlee, Gary Watt, Jack Stewart, Ronald F. Kelland, Michael Patrick O'Brien, Stu Harris, Kelly Buller
CONTACT US
285 Northern Avenue East
Sault Ste. Marie, Ontario P6B 4H9
P (705) 253-8840
F (705) 253-4643
soopeewee@shawbiz.ca
Open on the first Tuesday after Labour Day. Ice Rentals are available daily between 7am to 12am.